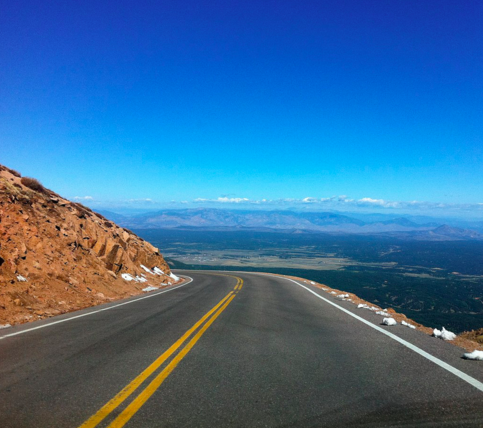 USA Road Trip Routes | Pikes Peak
Pikes Peak has always been an interest of mine long before I visited for the first time in 2011. I heard many stories about it growing up and watched numerous YouTube videos of racers speeding to the top as fast as possible in the annual Pikes Peak International Hill Climb: 
Pikes Peak is the most visited mountain in North America and one of the highest in which you can drive or ride a train to the top. Make sure to stop and say hi to Santa before making your ascent.
Even if it seems like a nice warm day at the bottom, don't forget your winter coat for the top as it gets quite chilly up there:
Without stopping, the 20 mile road to Pikes Peak takes about an hour to reach the summit. Along the way there are several gift shops and lots of places to pull off and take photos.
When you reach the summit be prepared for some spectacular views and warm up in the gift shop/restaurant with fresh made donuts before making your descent.
You also have the option to hike to the top (if you're brave enough) or hitch a ride and then bike all the way down (better check your brakes first).
Pikes Peak used to be a combination of pavement, dirt and gravel. Unfortunatly for it's racing history, the road has been paved…but foruntatly for me I got to pull a couple drifts when I visited in 2011 just before they paved the remaining dirt section.
Careful on your way up and down…there are no guardrails and it's quite a long way to the bottom:
If you are looking for USA road trip routes through Colorado I definitely suggest making Pikes Peak one of your stops. Depending on the time of year you might find snow at the top which was a nice contrast from the warmer conditions earlier on my 2011 USA road trip. It was also the highest elevation I reached during my journey as well.