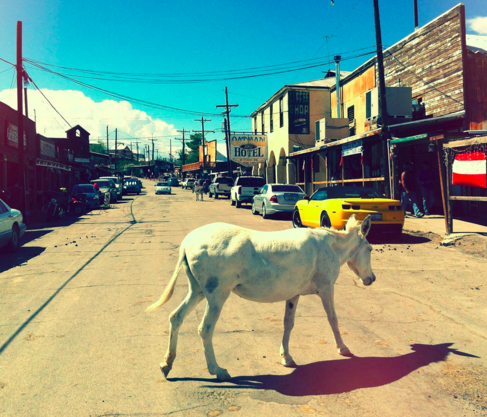 Wild Burros, Gun Fights and Saloons!
Oatman, Arizona – Old Wild West Mining Town
Nearing the end of Route 66 during our Route 66 Cross Country Adventure we took a curvy road through the hills past Kingman Arizona and stumbled upon the old mining town of Oatman, Arizona. We had no prior knowledge of this town, so coming across it was quite a treat and it quickly became our favorite city on Route 66.
Arriving from the east, you suddenly feel as if you've gone back in time with an old wagon, town history sign and historic buildings greeting you. We parked our car and started to walk towards the town and were greeted by one of the locals named Skip. He cleaned our glasses for free and told us a llittle about the history of Oatman.
We explored the miscellaneous shops throughout the town where the locals were extremly friendly, making us custom Oatman T-shirts right on the spot at no extra charge from the pre-made ones. We had lunch at the local restaurant and a couple drinks at the saloon.
What makes Oatman so unique besides it's original wild west appearance is the inhabitance of wild burros that roam the town looking for treats that you can buy by the bagful at any of the local shops. The burros are very friendly and let you pet them while you feed them. Make sure to drive extra slow through Oatman because you never know when one will decide to walk through the middle of the road!
Oatman has a lot of history to it and there is a museum with artifacts and newspaper clippings from many years ago that tell stories of its past. There are also gun fight reenactments and biker rallies that roll through town every year. No matter when you visit there will be something to entertain you in Oatman.
If you find yourself on a road trip near Arizona or are cruising down Route 66, make sure to stop and explore Oatman. It's one of the most fun and unique wild west towns that still exists in America.