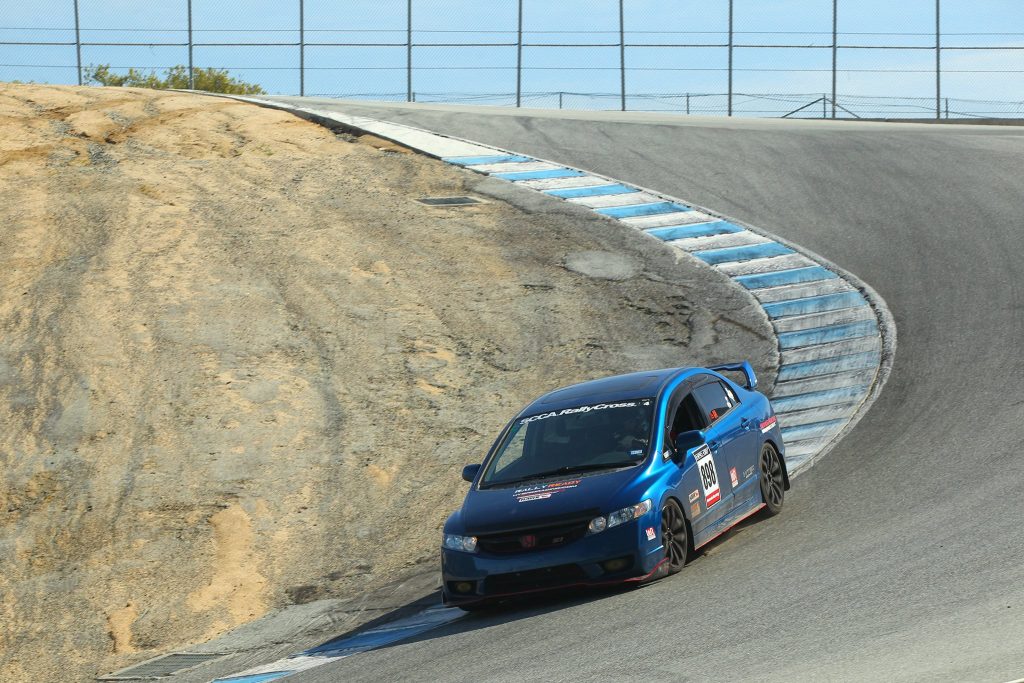 Watkins Glen and COTA were my first two bucket list tracks I wanted to drive. Another track that I knew like the back of my hand but never drove was Laguna Seca. I had logged countless laps and hours in multiple video games (mostly the Gran Turismo series) so when I had the chance to drive out to California from Texas in between jobs I quickly booked a track day with Hooked on Driving and took the road trip up.
The whole trip up I was nervous about my aftermarket exhaust system being too loud and getting kicked out so I told myself I would be happy if I just got one lap in just to say I drove this historic track. I was very cautious the first session out to stay out of VTEC range but I quickly learned they were only measuring sound in turn 5. I decided to experiment on the 3rd session and stay in 4th gear instead of shifting into 5th to lower RPM and sound….they somehow knew it was me making all the racket and not the stock STI in front of me (go figure) and I got meatballed and had to sit the rest of the session out. I blew a 98db in 4th gear at a moderate throttle (8db over the 90db limit). Part of me wanted to take my 2nd strike and downshift into 3rd (which is where I would have been if there was no restrictions for maximum power going uphill) but I didn't want to risk losing anymore precious time on this roller coaster of a track.
After the first lap I was laughing to myself in the car, it was so much damn fun to drive this thing in real life. Despite being hindered all the way up the hill after turn 5 as soon as I hit the corkscrew my little Civic was just as quick if not quicker than any of the other cars in the group C advanced (open passing with point by). I would gladly ride the corkscrew (and the entire downhill section) over any roller coaster any day of the week. It gives you that funny feeling in your stomach as you drop multiple stories in several seconds. One of my favorite sections of track ever, along with the uphill S's at Watkins Glen.
I was far from the fastest car out there but I kept up and didn't get passed often either. I was going over 90% but didn't want to go full 100% since I had to drive the car all the way back to Austin. I also didn't attempt an Alex Zanardi and cut the corkscrew which almost always ended up putting me in the wall in video games. Unfortunately, there was one casualty…a squirrel who kept crossing the track (or multiple squirrels?) finally tempted fate a little too close and ironically was eaten for the lunch by the Mustang behind me on the last session of the day (6:00 in the video above).
Overall the experience was incredible, Hooked on Driving was an easy organization to work with and I learned a lot in just one day. Feels great to check this one off the bucket list and I look forward to coming back someday on a weekend with no noise restrictions.
Photo Credit: Ronald Rohde