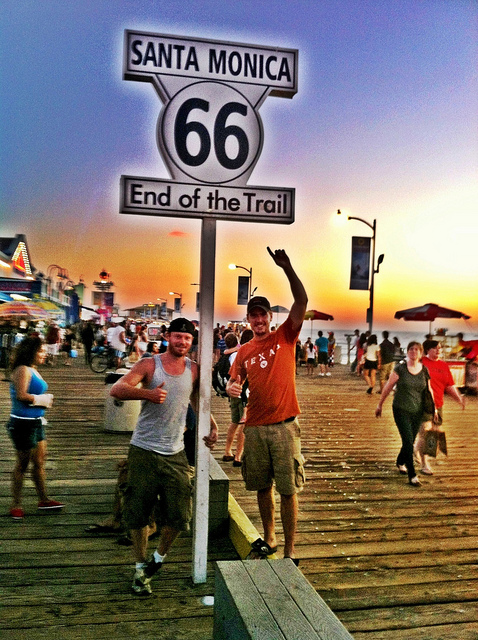 Travel Dates: July 28, 2012 – August 19, 2012
Trip Time: 22 Days
Distance: 9,188 mi/14,786 km
States Visited: 24
Temperature: Low: 44°F (Yosemite NP) High: 117°F (Needles, CA)
Vehicle: 2009 Honda Civic Si
Avg. MPG: 30.07 MPG, $.0132/mi
Total Gallons: 311.39 Gal
Total Fuel Cost: $1,235.27, $53.71/Day
Total Approx. Trip Cost:  $1,250 (1 of 2 people)
Trip Theme Songs: John Mayer – Route 66
Drivelapse Route 66
See the whole route:
Drivelapse Route 66 Uncut The full-length Route 66 Drivelapse video. Duration: 51:40
Featured On:
Timelapse USA 2012
Drivelapse USA 66
Drivelapse USA 66 – Full– The long version of Drivelapse USA 66. Time: 38:58
TRIP SUMMARY:
After driving the mother road from Amarillo to Flagstaff on my Cross-Country 2011 road trip last year, I decided my next trip had to go from Chicago to LA and over 2,000 miles all the way this year. Route 66 has always been an interest of mine and in recent years my interest was spiked after seeing the Disney movie "Cars". In case you haven't seen it (or you're unfamiliar with the history of Route 66 in America), this short clip from the movie portrays an accurate depiction of what happened to many of the towns Route 66 used to run through:
With Route 66 as the focus of the trip we set out on another Cross-Country adventure a year later that took us from the Atlantic to the Pacific once again. The first and last days were the longest since we had a 3 week window in which we had to complete the trip by. The first day we started in Austin, Texas (Live Music Capital of the World) and ended in Nashville, Tennessee (Music City). Arriving in Nashville on a Saturday night proved to be a perfect timing of events. The streets were crowded with people and live music was flowing out of every bar and restaurant on Broadway. We left early the next morning, heading west on I-40 into the Smoky Mountains onto my favorite road in the country: Tail Of The Dragon. After cruising the dragon with a Mazda Miata group and lots of motorcycles we headed north up to Asheville where we stumbled upon the last day of a festival was taking place. We enjoyed some food and live music music on the closed streets of Asheville before heading north into Virginia to camp for the night.
From Virginia, we headed north up into New York City for the night. After enjoying some NY pizza in Brooklyn we took the subway into Manhattan and visited Times Square. After New York, we continued up to Boston for a night and enjoyed food and drinks downtown including the historic Green Dragon Tavern. We set foot in the Atlantic and then started the journey west into Upstate NY. Originally hailing from Upstate New York and now living outside the state of New York, it shocks me how many people are unaware that New York isn't just a city:


We visited Albany (The capitol of New York), enjoyed Dinosaur Bar-B-Que in my hometown Syracuse (The Best BBQ in the Northeast US), and chicken wings at the Anchor Bar where they were created in Buffalo back in 1964. After a quick detour to see Niagara Falls on the border of Canada we took I-90 west to Wisconsin.
We spent the night in Beer City aka Milwaukee, home to some of the United States most well-known breweries. The next day we drove down to Chicago and enjoyed some deep dish pizza at Gino's East before officially starting our Route 66 portion of the trip and heading out of Chicago.
Our first official stop on Route 66 was for some ice cream in Joilet, the city known for it's scenes in the movie The Blues Brothers. From Joilet we continued deep into the "Land of Lincoln" where it's easy to spot Abraham Lincoln everywhere from license plates and walls to the the world's largest covered wagon. We stopped in Springfield to visit his grave and rub his bronze nose for good luck on our journey.
From Illinois, we drove into St. Louis Missouri for a stop at the iconic Gateway Arch. After St. Louis we saw the world's largest rocking chair in Cuba, Missouri. We then traveled down one of the preserved doublewide portions of Route 66 in Devil's Elbow and stopped for lunch at the Elbow Inn. From Devil's Elbow we continued westward through Springfield and into Joplin before exiting Missouri for the short stint of Route 66 that goes through Kansas.
The brief section of Kansas on Route 66 has Galena, a place that inspired "Radiator Springs"  (the town from Disney's Cars). There is even a full-size character "Mater"  on display. After Galena, we began the Oklahoma portion of the trip stopping in Chandler to check out a Route 66 Interpretive Center that had tons of great information about the Mother Road along with photos and videos. After Chandler, we headed through Tulsa and stopped in Oklahoma City for lunch before continuing on into one of the best sunsets of the trip in West Oklahoma.
After Leaving Oklahoma we began the Texas portion of Route 66. As soon as we got to Amarillo we made sure we had big appetites for lunch at the Big Texan (Home of the free 72 oz. steak). The steak is only free if you can eat the whole thing so we opted for the 18 oz. instead which fed us for both lunch and dinner. With full bellies we made a quick stop at Wal-Mart for some spray paint and headed over to Cadillac Ranch to leave our mark before continuing into New Mexico.
Reaching New Mexico, we cruised through Tucumcari and then opted for the pre-1937 alignment of Route 66. This took us up to Santa Fe and then straight down through Albuquerque instead of the post-1937 alignment which goes east-west. We saw wild horses on an old portion of Route 66 between Alberquerque and Gallup where the road appears unchanged since it closed. When we arrived in Gallup there was a Navajo song and dance festival going on so we had to detour around the city.
We entered the Arizona section of the journey next, stopping in Holbrook to see the largest map of Route 66 and the wigwam motel. Next up we stopped and stood on a corner in Winslow, Arizona  (The town made famous by The Eagles song in the 70's). From Winslow we continued our Arizona adventure into Flagstaff and Williams. Unlike a lot of the towns and cities along Route 66, both Williams and Flagstaff are still thriving today with lots of shops restaurants and tourists, many of whom are on their way to the Grand Canyon. From Williams, we continued west into one of the most scenic points of Route 66 (and the entire trip) as we entered Kingman. We made a last minute decision to take a break from Route 66 and head north up to Las Vegas for the night, stopping at the Hoover Dam on the way back before returning to Kingman and continuing our journey west.
After stopping in Kingman and seeing the world's longest Route 66 map and an abandoned motorcross raceway park, we headed up into the hills into the twistiest part of Route 66. After summiting, we started down the other side of the hills and stumbled into Oatman, Arizona to which we had no prior knowledge of. It turned out to be one of our favorite spots of the trip thanks to the friendly locals, interesting shops and businesses, gunfights and of course the wild burros that you can feed and pet as they wander around the streets.
After Oatman, we headed into the final state of Route 66: California. Until this point, the trip had gone very smoothly with no hiccups of any kind. Getting a little too comforterable with the Route 66 iphone app that was guiding us we encountered some troublesome sand trying to follow the historic route and got stuck. Luckily I used the same techniques I had used dozens of times getting stuck in snow and we were able to shake the car loose and continue. Later that night however we got stuck again turning around on a dirt access road in the Mojave preserve. I learned that night that 1) AAA does not help you if you are not on a paved road (Thanks a lot AAA!) and 2) Tow truck drivers will make any excuse not to come and help you out if you are on a dirt road (my favorite was "We can't afford to get our truck dirty"). Luckily the folks at Big D's towing actually cared that we were stuck in Mojave Desert and charged us 1/3 of the price that the AAA company quoted us, Thanks Again Big D!
So for two years in a row I have gotten stuck in the Mojave Desert leaving Las Vegas. Luckily this time I won a little bit of money which helped pay for the towing charge. Fortunately, the whole ordeal didn't take any time off the trip since we camped in the spot we got stuck. We got up early the next day and continued west on old 66. This part of Route 66 was unique in that there were graphitti buildings and countless rock formations, many spelling out names of people who had stopped next to the road. After a quick stop in Barstow for lunch at the same In-and-Out Burger as last year (even more packed and crazy than before) we headed to Victorville.
Just outside of Victorville is a Bottle Cactus Ranch, a very unique collection of bottle and other miscellaneous objects. We talked to Elmer, the owner and creator of the ranch who was happy to tell us about many of his items before we started the final stretch of 66. Up until this point we hadn't skipped any part of Route 66 and had taken every scenic detour and oldest route possible. We were trying to get to Santa Monica before sundown and it would have been nice to jump on the highway and save a couple hours. Instead we stuck to old Route 66 and went from San Bernindino all the way through Hollywood and Beverly Hills stopping at every stoplight and stop sign taking several hours in rush hour traffic to reach the end.
Luckily the strenous end of the journey was worth it when we reached the Santa Monica pier, got out of the car and walked up to the "End Of The Trail" sign just as a picturesque sunset was taking place.
After a night in Hollywood and an oil change we started the voyage up Pacific Coast Highway 1. Along the way we got glimpses of some unexpected creatures including zebras and elephant seals. The road was extremely scenic again like it was a year ago on my 2011 trip. A little more fog was present this time but it was still an amazing drive. Unlike last year, when we arrived in San Francisco the entire Golden Gate Bridge was visible. We played some Disc Golf in Golden Gate Park and then headed down Lombard St and battled traffic to head west over the Bay Bridge out of San Francisco.
From the Bay Area we started our trip east into Yosemite National Park. We didn't have time to go on any of the trails or tours of the park but we were able to see some spectacular views from a few hours of driving around the park. California held both the highest (117°F in the Mojave desert) and the lowest temperatures as we left Yosemite (44°F).  Coming out of Yosemite on California 120 proved to be a lot of fun as the road has a roller coaster effect for several miles.
Without knowing it at the time, we found ourselves on the Extraterrestrial Highway (Nevada 375) not far from Area 51. We stopped for gas and some Alien Jerky learning from the locals that sonic booms, strange low-flying government aircraft and other mysterious lights are normal in this part of the state. We also learned of several ghost towns in the area and decided to check out one near Caliente, Nevada. Unfortunately, my Civic got a flat tire due to some rocky roads near the ghost town so we were forced to find help in Caliente. We decided it was a good excuse along with the constant rain, to stay in the first motel of the trip. The locals helped me change my tire and we enjoyed dinner and drinks with them in what turned out to be a great totally unplanned night.
The next morning we headed further east into Utah near Zion National Park. Unfortunately, we didn't have time to visit it but it's in the cards for the future. From Utah, we headed east back into Arizona and New Mexico to the Four Corners. The Four Corners is the only place in the United States where four states meet directly on their corners and you are able to stand in all four at the same time. We camped out in Farmington, New Mexico that night and made the final trek back the next day. We drove all day long but stopped in Roswell for lunch and got back into Austin after nightfall.
It was an incredible journey seeing Route 66 from start to finish and realizing how much of the Disney movie Cars accurately depicts the mother road and it's towns. Even though I can say I drove Route 66 from start to finish I've been told that I need to do it on a motorcycle to really get the full experience. I won't argue this point and would gladly travel it all over again via bike for my first motorcycle drivelapse video and see all the things I missed out on this trip. Until then enjoy  the three videos I made on this trip: Drivelapse Route 66, Timelapse USA 2012 and Drivelapse USA 2012.
TRIP PHOTOS:
BEHIND THE SCENES: