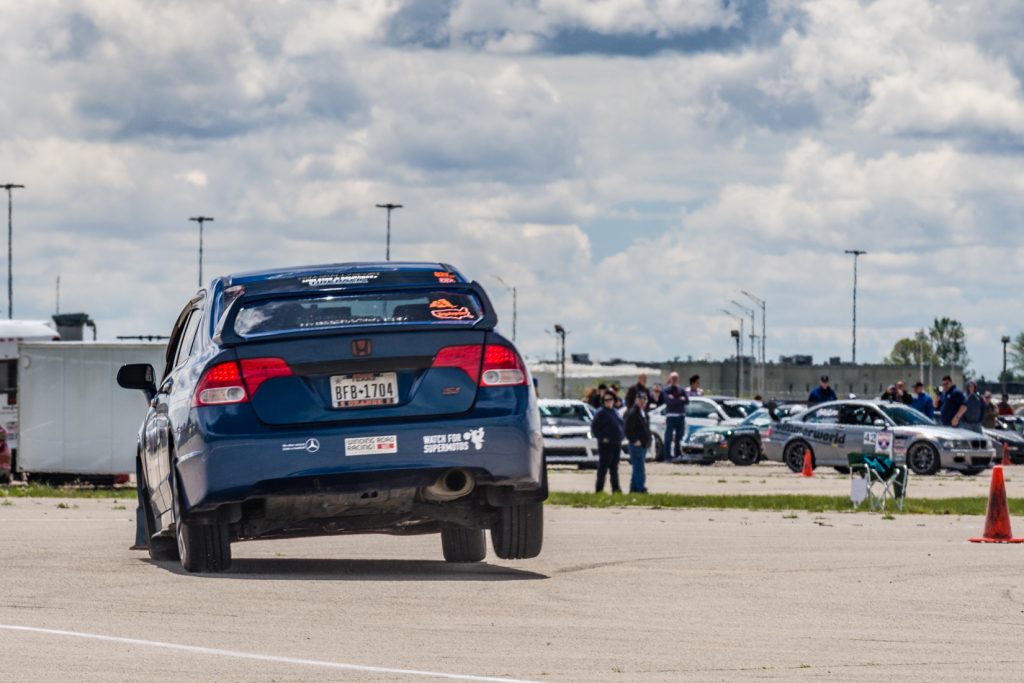 What is One Lap of America?
7 Days.
6 Racetracks + Drag Races, Autocross, Skidpad and bonus events.
1 Set of tires allowed and no support vehicles. You must drive the same car on the same tires all week long.
3,500 Miles from Indiana to Florida and back.
So many fast food stops I lost track and so little sleep I forgot how to count anyways.
One hell of a good time.
Why the heck did I sign up for this?
As I sit here writing this, I am totally fine with the fact that I woke up at 2AM and wasn't able to fall back asleep for a total of 4 hours of sleep last night. Why? Well, because on One Lap of America, 4 hours of sleep is about the average amount….at least for 2017. In the past, especially back when it was the Cannonball Run – sleep wasn't even an option.
So why would I want to participate in a week long event where you sleep little to none, eat almost only fast food and track food, drive thousands of miles in a deafening race car only to drive a few short laps around some racetracks?
Well, just like in 2014 – I had the crazy idea put into my head from a friend who whenever suggests a big opportunity, I'm always glad to take it. You may know this friend (and co-driver Seth) as the guy who decided to avoid a $57,000 repair bill from Mercedes by removing the engine from his Mercedes R63 AMG and fixing it on his own.
How this all started
After I returned from Laguna Seca last year and hit the 100,000 mile mark on my odometer, I wasn't sure what I wanted to do with my car. I won the National Championship in Rallycross on my first attempt so I didn't have any strong urge to return for a second try. At the same time, I knew I didn't want to turn the car into a proper rally car and cage it for more serious rally events….yet anyways.
So after borrowing a Ford Focus for a Rally Sprint event, Seth (who had just flown back from OLOA 2016 to marshall the rally sprint) suggested One Lap of America as the next step for my Civic. I immediately though of my Dad's friend who has done the event for over 20 years and always remembered all the stickers all over his car when he would stop by our house when I was growing up.
All of the sudden, I had a new goal and new opportunity cross off something I had never tried before (but something that paralleled my interests so well it seemed strange I hadn't done it yet). My car has been to all 48 continental states and participated in track days across the country. A week long road-trip with 7 racetracks in between…. how could I not enjoy this?
In Seth's words: "We are bringing a spoon to a gunfight". A near stock civic with mild modifications is certainly no match for Porsches, Vipers and GTRs, but that's not why I wanted to do One Lap this year. I wanted to do it just to say I did. I told Seth:
"I have two goals for this event: 1. Drive the car home 2. Don't come in last."
---
Preparation
We painted the wheels
Cleaned years of rally dust and dirt out of the interior
Fabricated a bracket for our fire extinguisher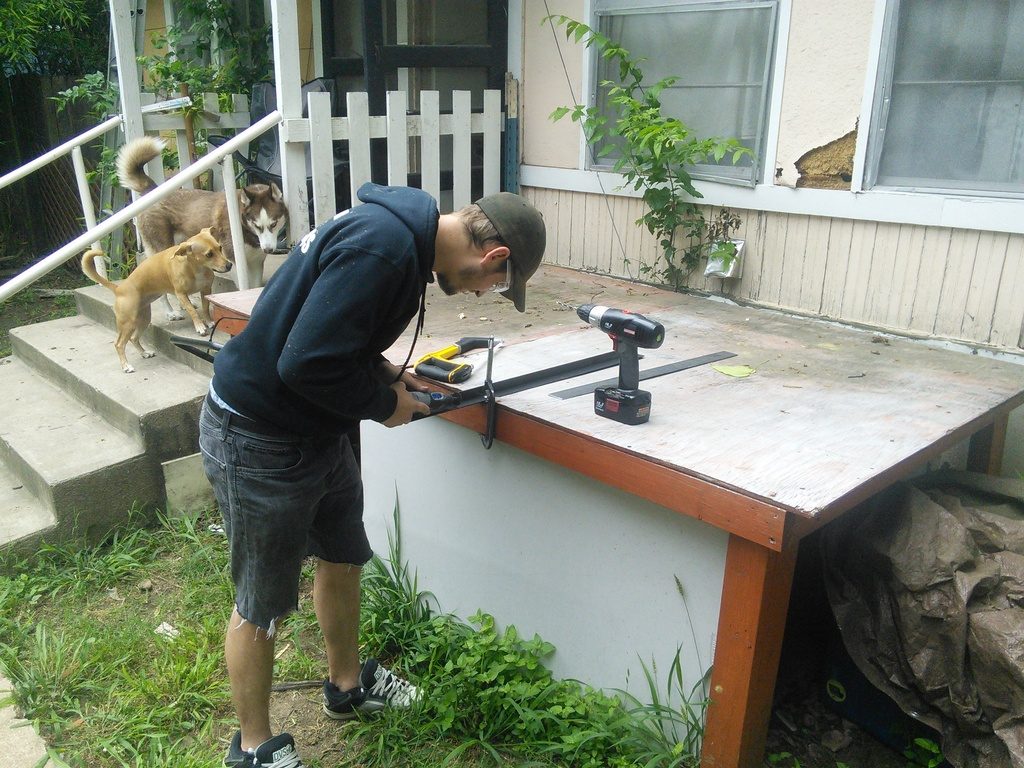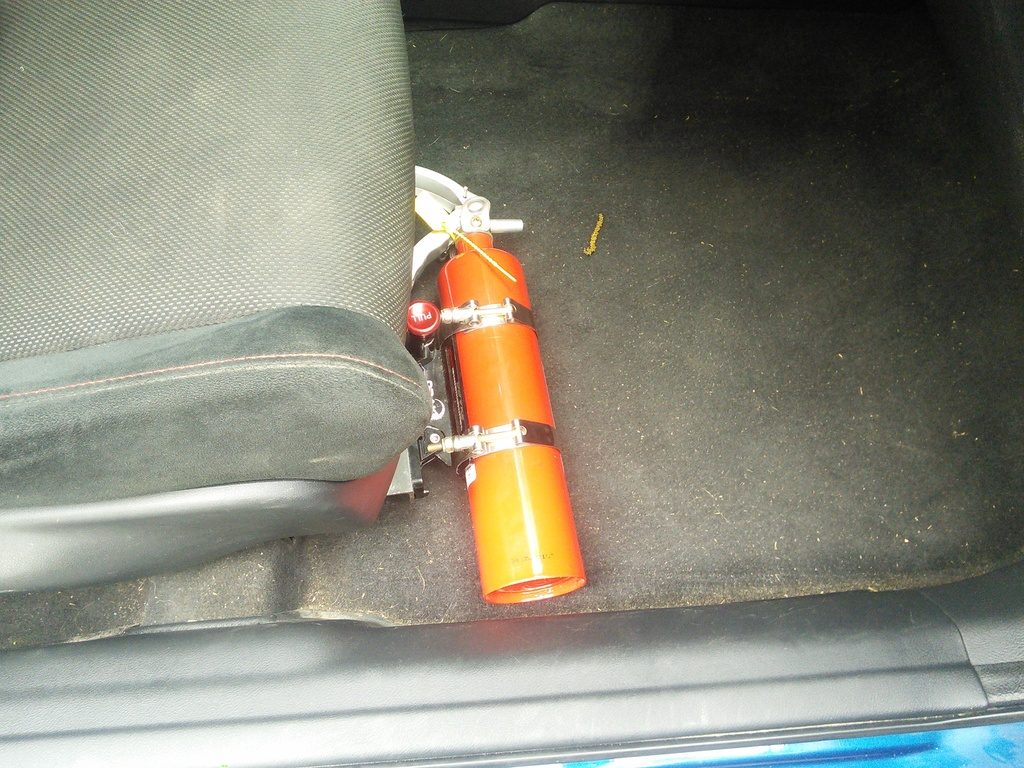 located that annoying knocking sound coming from the rear of the car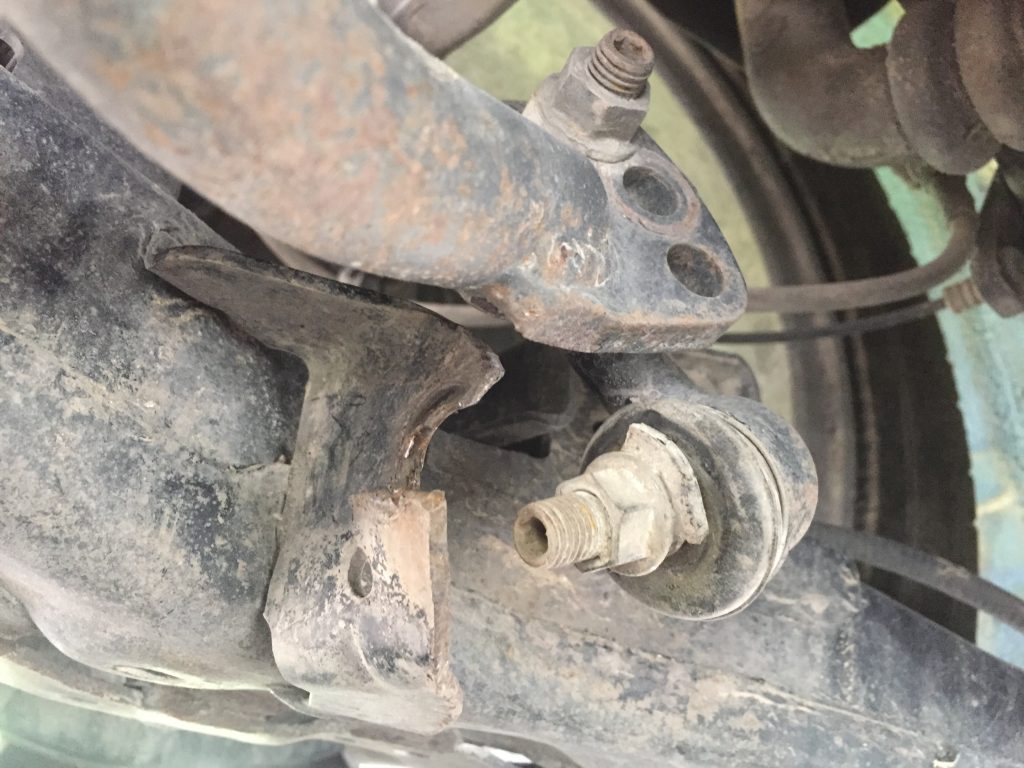 and got it welded just in time before we had to leave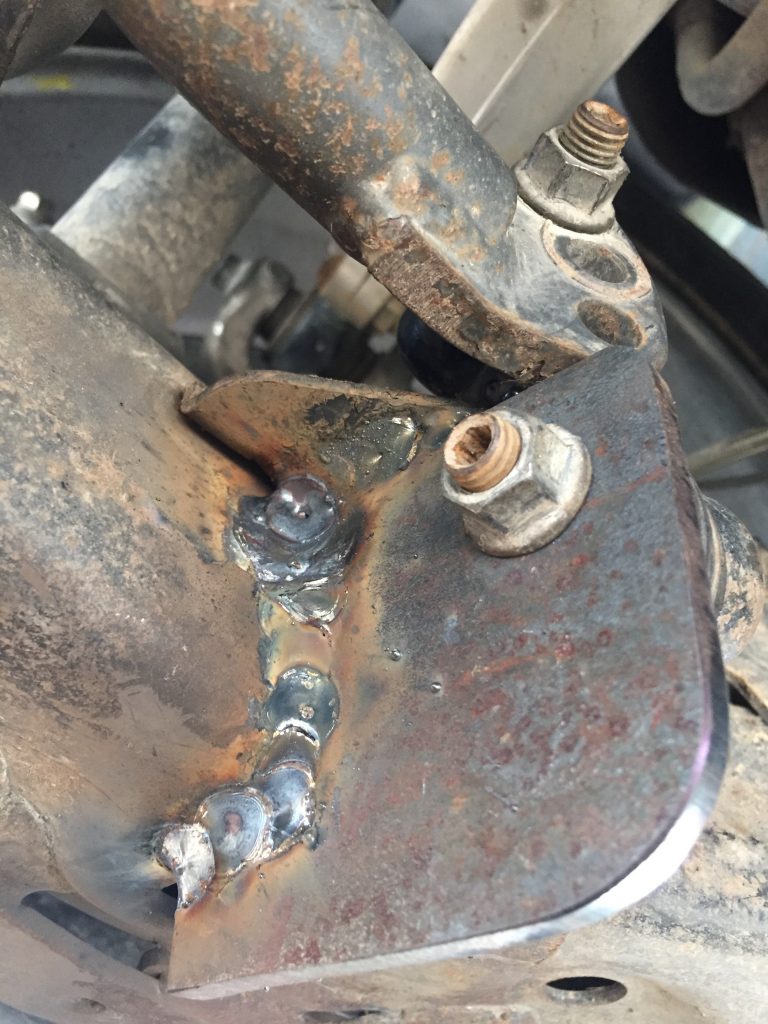 then an oil change, brake fluid change, brake pad and rotor swap to finish prep.
The car was ready to go! Or so we thought….
---
Day 1: Austin, TX – Mt. Vernon, IL (933 Miles)
I left Austin in the morning of Thursday May 4th. Thanks to years of rallycrossing, at somepoint between Austin and Houston my splashguards and fender lines decided to fall apart and needed to be cut to prevent any rubbing or scraping when I got to Houston to pick up Seth. A rough start to the trip since we had to take the car apart, but we drove the rest of the day without incident into the night and grabbed a few hours rest in Illinois.
---
Day 2: Mt. Vernon, IL – South Bend, IN (333 Miles)
We woke up and finished the rest of the commute to the starting line. Most of the teams had been there all day since they had much shorter transits (we had one of the farthest drives to the starting line from Austin, TX). We got there just in time to register, throw stickers on the car and pass tech before the driver's meeting. We enjoyed 1 of only 2 sit down meals of the trip at the Waterford Estates Lodge where the trip starts and ends and got our first and last real night of sleep.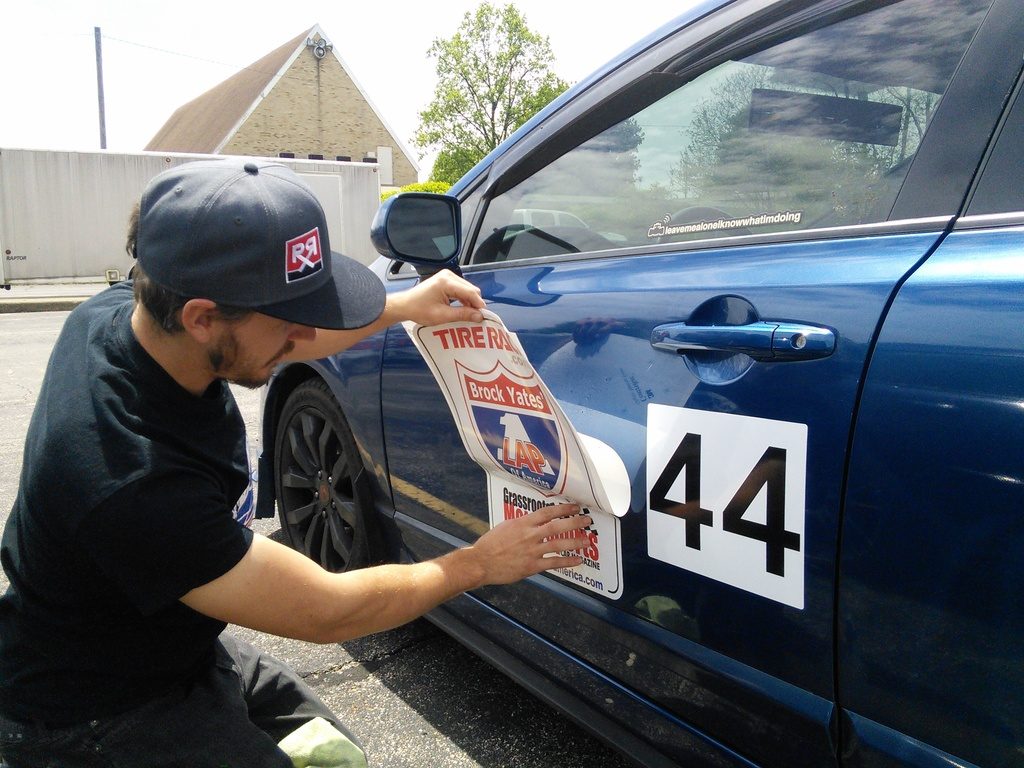 ---
Day 3: 🚙 South Bend, IN ➡️ Memphis, TN 🛣 603 Miles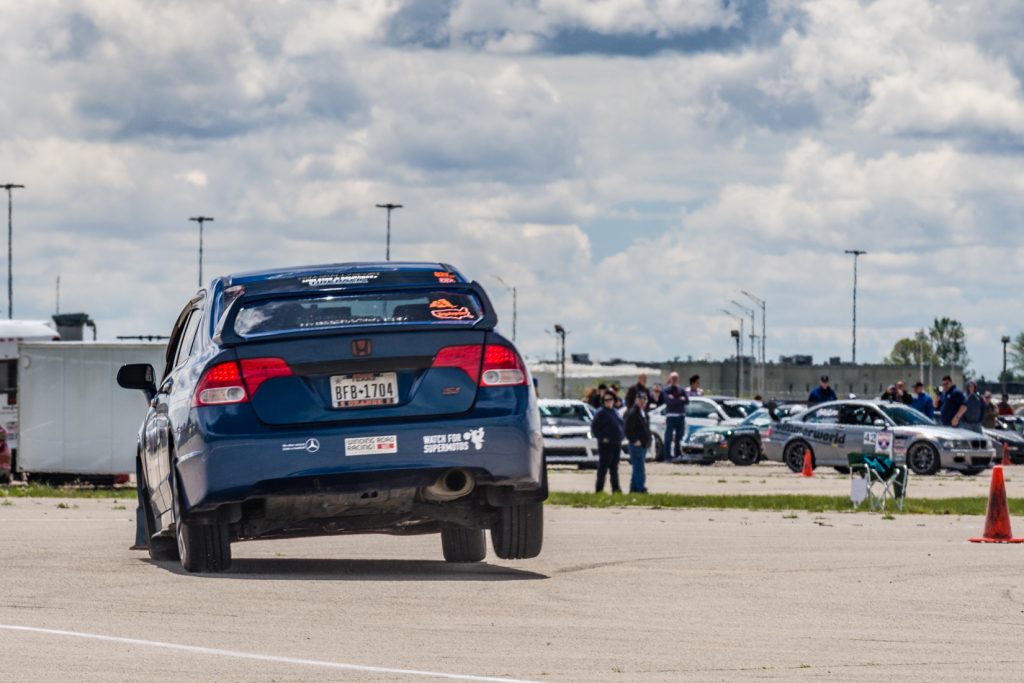 🏁 Wet Skid Pad – Tire Rack Headquarters (54/68)
🏁 Autocross – Grissom Airforce Base  (54/68)
First day of competition. Seth drove the skidpad at Tire Rack headquarters and we both took turns at autocross at Grissom Air-force Base. I missed a shift and nailed a cone so Seth earned the 3rd and final run. Ironically we finished 54th (out of 68) in both events. If we wanted to gain a few positions we would have had Seth drive all 3 runs but we decided before we started this journey that we would split events so we both could cross new tracks off our lists.
Even though I performed poorly I was glad I drove because it got my jitters out and made me realize I was a little too aggressive with my driving style. I kept that in the back of my head for the next day and Seth noted that our brakes didn't work as well as he expected. I explained that the pads I put on the car weren't the best for stopping power but had lasted through a whole weekend at Texas World Speedway and had plenty of pad left so that's why I chose to buy another pair of them.
Seth was still getting used to the car at this point and I was getting reacquainted since it was May and I hadn't done any track or driving events since TWS back in the fall of 2016.
---
Day 4 of #oloa2017: 🚙Memphis, TN ➡️ Atlanta, GA 🛣 441 Miles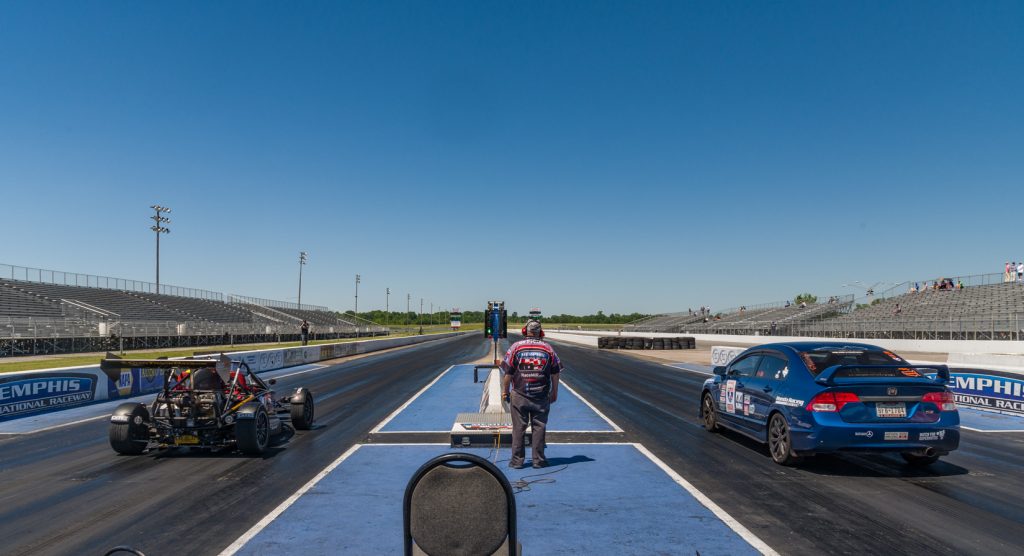 🏁  Memphis International Raceway – Roadcourse | AM: 57/68 PM: 60/68
🏁  Memphis International Raceway – Drag Race | ET: 63/68 Bracket: 7T
Our first real track of the trip. We were the first ones to the track as the sun was coming up and the first ones to scooter and skateboard it to learn the curves. After yesterday's aggressive mistakes I was a little conservative with my session and ended up in 57th. Seth got to drive my car for the first time on a racetrack and started to feel more comfortable with it. We both agreed the brakes kind of sucked and that we should have done some track days to warm up before the event (we both felt rusty).
I took the drag race since I had never done one before and wanted to try it. I was completely unprepared for the ET and got destroyed by the Ariel Atom. Seth claimed he tried to get a photo of us in the same frame but the Atom was so far ahead it was impossible to fit us in one photo. The 2nd time I nailed it and shaved almost 2 seconds off to get closer to a 15.0 but since I set my ET so high at 17.0 I broke out and we headed to Atlanta early.
---
Day 5 of #oloa2017: 🚙Atlanta, GA ➡️ Sebring, FL 🛣 562 Miles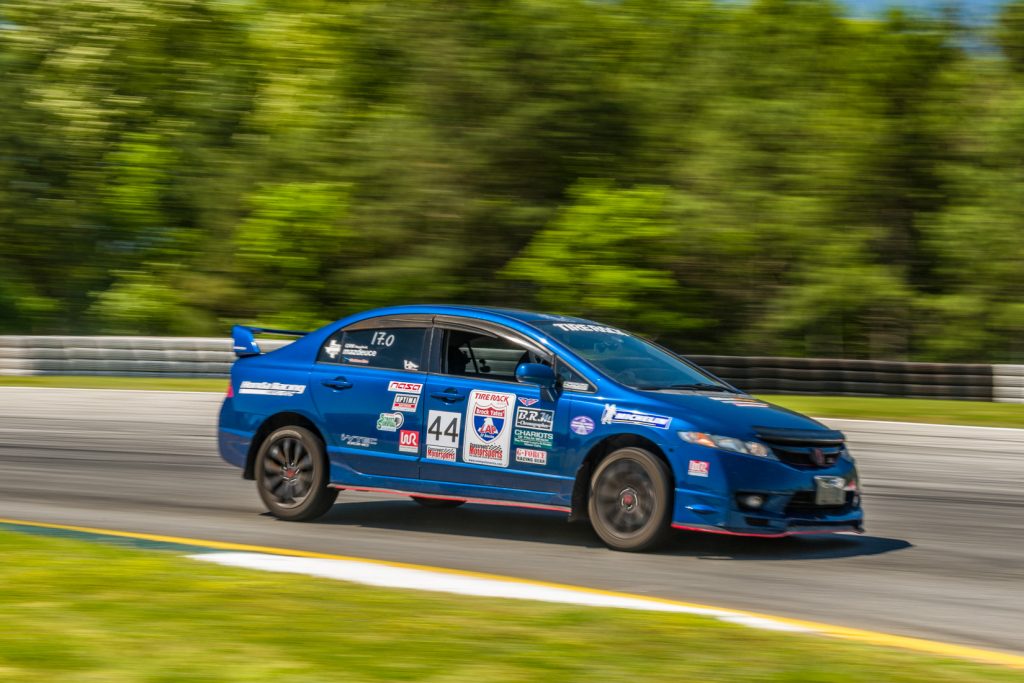 🏁  Road Atlanta | AM: 39/68 PM: 58/68
The AM session was our best finish in the entire week. Which is ironic because out of all the tracks we drove I felt the most uncomfortable with this one. At the same time this quickly became my favorite track of the week. With elements and elevation similar to Watkins Glen and Laguna Seca I felt familiar and completely foreign to this track at the same time.
Walking/Skateboarding the track in the morning and watching countless youtube videos simply cannot prepare you for the blind hills where your eyes and hands just don't match up.
I never once felt confident on either of the blind sections of the course but took a more aggressive approach to this track than a did in Memphis and it paid off. We expected to be outrun by the higher horsepower cars on the long straights here but were surprised with a 39th place finish almost halfway through the field.
---
Day 6: Sebring, FL ➡️ Kershaw, SC 🛣  (543 Miles)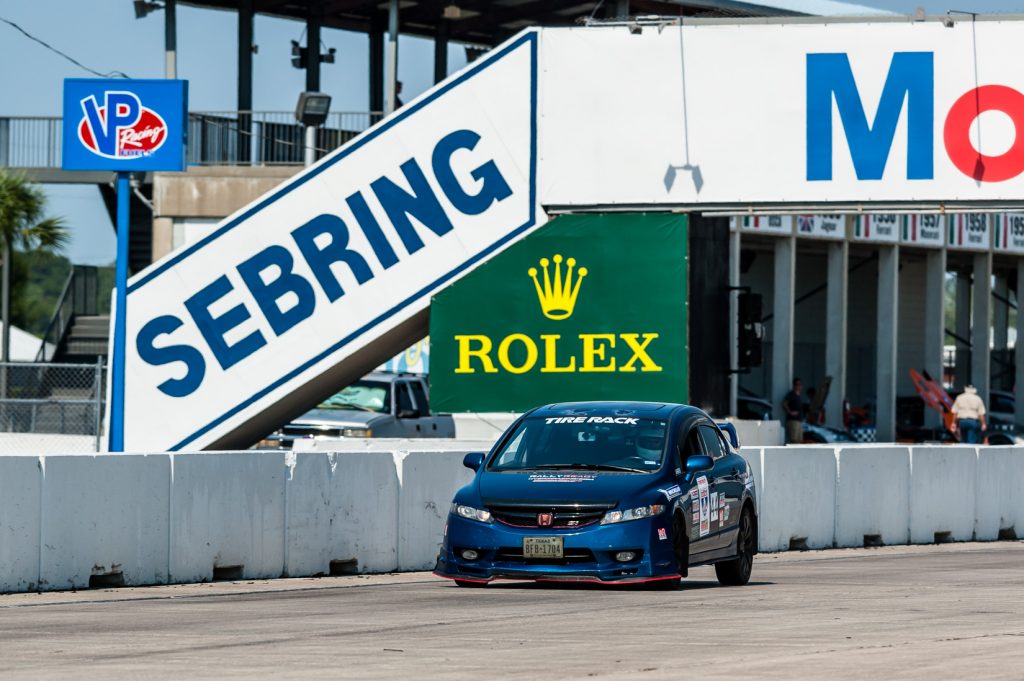 🏁  Sebring International Raceway | AM: 46/68 PM: 56/68
At Road Atlanta the day before I had noticed the brakes get soft on the last lap. I figured it was due to the elevation and hard braking required at that track. On my second lap in the AM session at Sebring the same thing started to happen. By the end of the lap, I had completely lost the brakes and the pedal went to the floor. I did my best to pump them to get the back brakes to work but ended up going all 4 wheels off at one point and having to take "creative" wider lines in general to adjust for not having any brakes. I was pleased when I checked my Harry's Lap Timer app to find out that I had only lost 2 seconds overall with no brakes on the last lap.
I came off the track and could hear metal screeching on metal. We took the wheel off and there was absolutely 0 brake pad left. What I thought were durable brake pads (EBC Blue Stuff) were just not fit for a 95 degree day at a track like Sebring, they literally melted away. We threw on the used backup pads and Seth destroyed those halfway through his session and also ended up with the pedal on the floor (and going off track).
After we realized we had no racing pads for the next day, Seth quickly posted on the grassroots forums, got a few contacts, and called around. No one in Orlando had any racing pads so we ended up calling Carbotech HQ in Concord, NC and they told us they would hand-deliver the pads to Carolina Motorsports Park in Kershaw, SC in the morning before our session! We were ecstatic. Not only could we continue to compete with proper pads but we didn't have to lose any time or sleep by driving out of the way to find pads.
We left Sebring (experienced terrible traffic in Orlando) stopped at Grassroots Motorsports HQ in Daytona and even took a second to stop at the beach and pretend to be "vacationing" tourists for the first time on this crazy adventure across the country.
---
Day 7 of #oloa2017: 🚙Kershaw, SC ➡️ Woodford, VA 🛣  402 Miles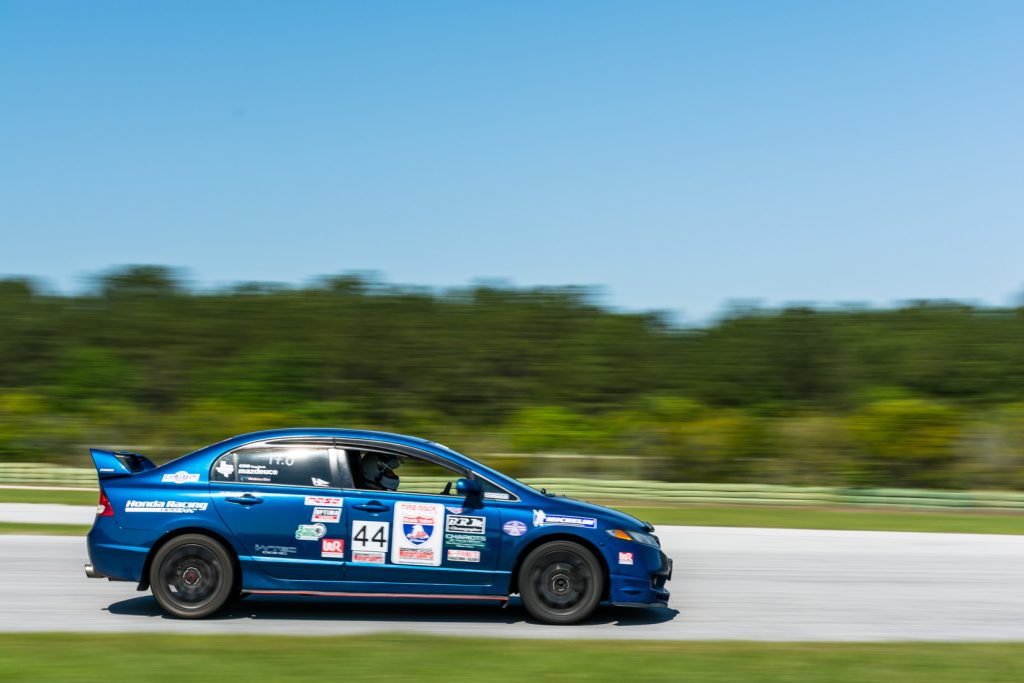 🏁  Carolina Motorsports Park | AM: 50/68 PM: 57/68
Mike from Carbotech drove down and hand delivered the brake pads in what other but a Honda Civic Si!  HUGE thanks to him and Carbotech for going out of their way so we didn't miss any of the events.
We sanded the rotors with a sander we had purchased at Lowe's the day before and installed the new pads. The car felt like new! I've never had braking power like this before. We quickly wondered how much better we could had done at the Autocross, Memphis, Road Atlanta and Sebring had we actually had real brake pads on the car…live and learn!
We had a couple visitors to our garage including some of Seth's friends from the Grassroots Motorsports forums who helped us with the brake flush and pad change. There was also some people who came out to watch the event and check out all the cars. I got to chat with Joel and Kevin who stopped by and we ended up talking Hondas and cars for hours. I gave Kevin his first ride in an Si and his first track experience ever from the passenger seat….needless to say he was thrilled.
We left CMP, drove up I-95 to Virginia and took the first real timeout of the trip to party at Dominion Raceway. Listened to free music from Reckless Kelly (a band from Austin ironically) partied some more at the hotel then bed for a couple hours.
---
Day 8 of #oloa2017: 🚙Woodford, VA ➡️ South Haven, MI 🛣 706 Miles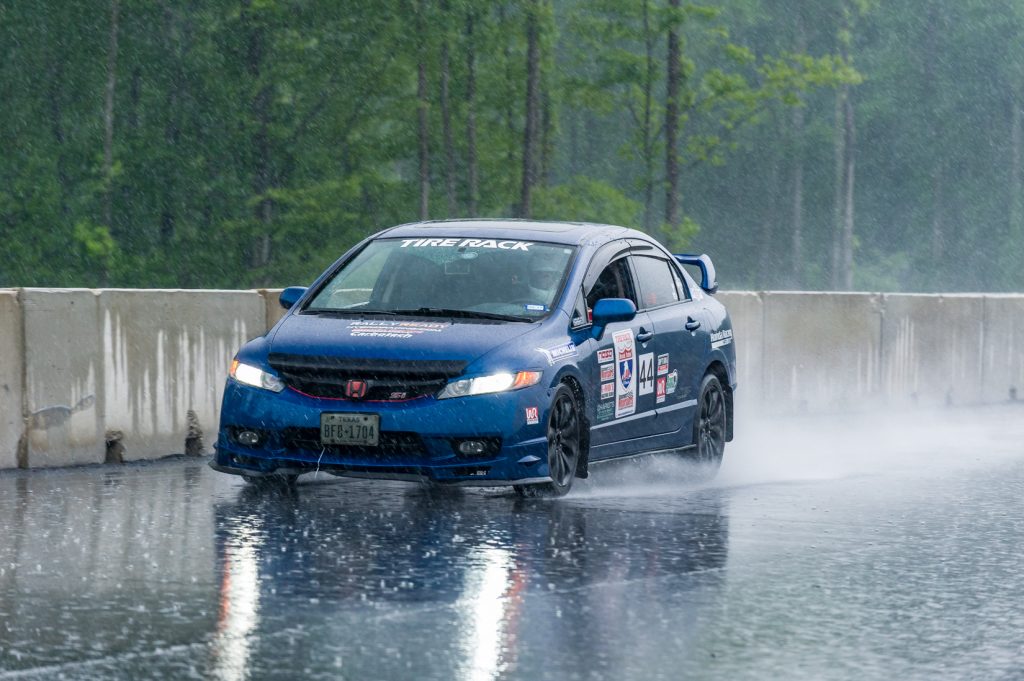 🏁  Dominion Raceway | AM: 56/68 PM: 52/68
I ran the PM session with VSA on and improved by almost a minute. I guess I'll leave it on from now on in wet situations. My Dad had attended Skip Barber racing school in Limerock when I was younger and I always remember him telling me "If you spin, both feet in". I finally got to put that knowledge and advice to the test on this day when I starting going backwards and it saved me (just barely) from hitting the wall.
---
Day 9 of #oloa2017: 🚙South Haven, MI ➡️ South Bend, IN 🛣 53 Miles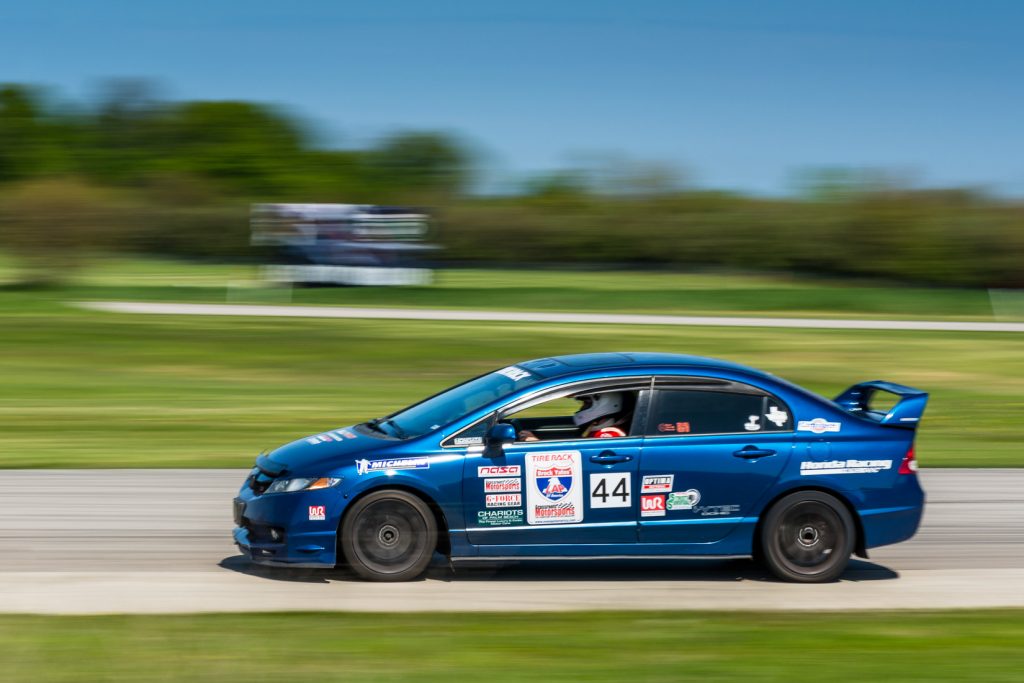 🏁  Gingerman Raceway | AM: 44/68 PM: 46/68
By this point in the trip we were much better drivers than we were when we started the week. Seth let me drive both sessions since anyone could drive open track after we were done with timed laps in the afternoon. I did well enough in the morning that I only shaved off 3 seconds total in the afternoon. This felt really good after having my worst day the day before.
Every track we visited on the trip was brand new to us. We had gotten into a rhythm of reading Brock's notes about the track in our guidebook, studying the track map, watching YouTube videos from the passenger seat…..and then of course: waking up at the ass-crack of dawn to walk the track in order to have some sort of familiarity with the track before we drove it for the first time in the triple digits.
Gingerman was the first time the whole week where I felt comfortable on my first lap and confident by the end of the session. It was almost like I had driven it before and instantly felt like a home track to me. It was after I looked at my second session and realized that I had only shaved off 3 seconds that I knew for sure I wanted to return to One Lap next year.
As much as I love track days, Once you know and understand a track it tends to get boring unless if you are chasing other cars down. This is the beauty of One Lap… there is no warmup and there is no room for error. You only have 3 laps to drive as fast as you possibly can without screwing up. Hundreds and hundreds of miles, a few hours of sleep and then butterflies in your stomach all morning while you sit and wait in the grid for your turn to get out on the track and give it everything you have. What seems crazy on paper is exactly what makes this event so special and quickly makes you realize your strengths and weaknesses as a driver.
A short drive back to South Bend, some burnouts in the Waterford parking lot and the most excited I have ever been for a sit-down meal I have ever been in my life. We had Chinese food which was probably really mediocre but after a week of track food (some good, some very scary) and more McDonalds than any human should consume in a week – this meal was gold.
---
Days 10/11 of #oloa2017:🚙South Bend, IN ➡️ Austin, TX 🛣 1285 Miles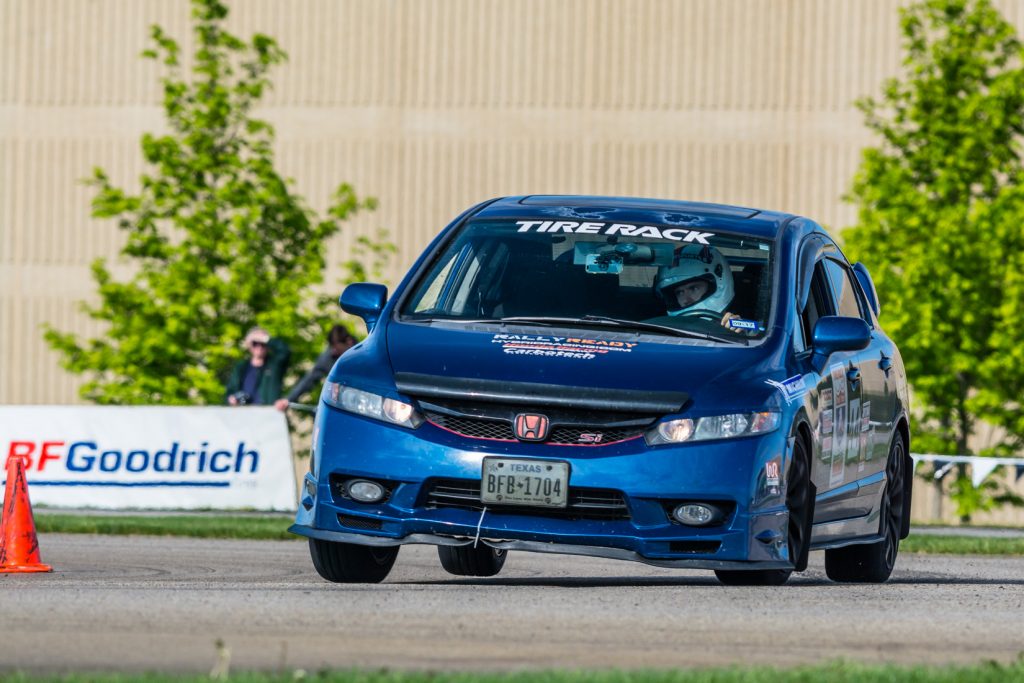 🏁  Dry Skidpad – Tire Rack Headquarters | 58/68
We finished up the week back where it all started at Tire Rack in South Bend, IN on the dry skidpad this time. I tried it this time but didn't realize until after I had gone that you are trying to pull G's and not achieve the lowest time….. oh well. Like us fans of the Buffalo Bills like (or dislike) to say…. there's always next year.
A sit down lunch among the delicious smell of fresh tires in the Tire Rack warehouse, an award ceremony and then back to Texas we went.
How did we do?
We finished 60/68 Overall and 8/9 in our class.  We didn't come in last and even though the car was almost a wreck in Virginia, it made it all the way back to Austin. Both goals achieved for my first year at one lap.
Would I ever do this lunatic event again?
Absolutely.
I've done many track days and I've done my fair share of road trips. One Lap was unlike anything I've ever experienced before: 11 Days, 6174 miles, 20 states, 6 race tracks, and very little sleep powered mostly by fast food and track food.
It was great to see people twice, almost three times my age out on this adventure having the time of their lives. The next time I hear someone say they are tired, I will think back to this crazy week and how we were all having so much fun, we didn't think about the lack of sleep or crappy food we ate, but the amazing experiences we had at some of the best tracks in country.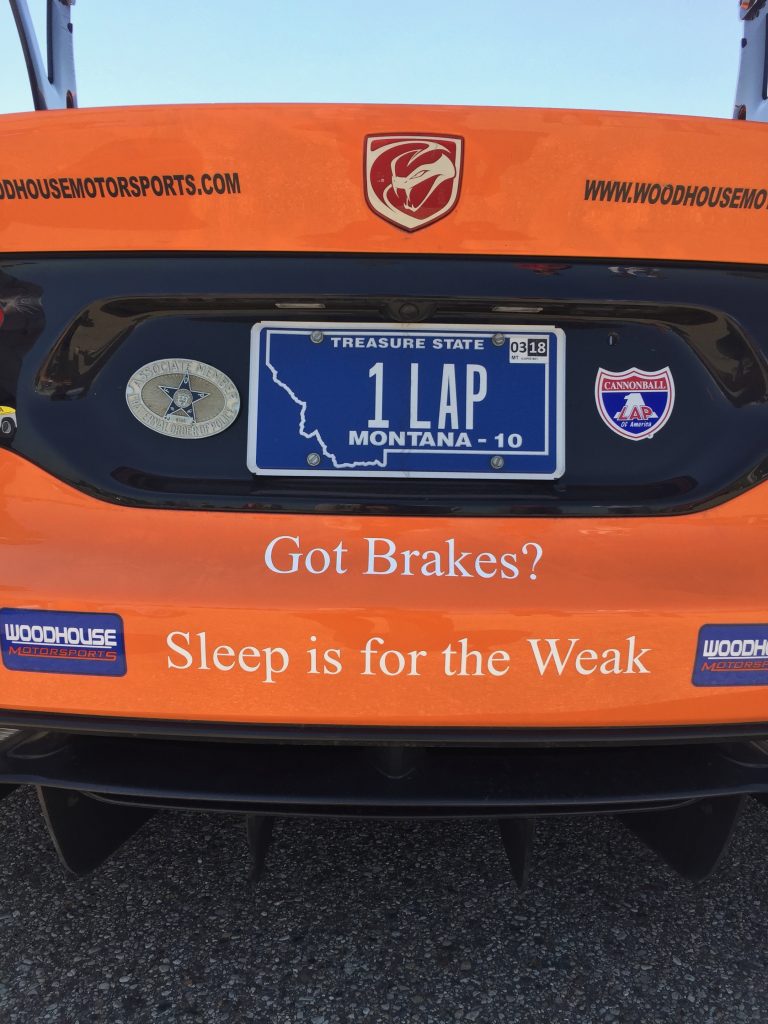 An adventure not built for the weak and a true test for both man and machine….is it May 2018 yet?
(Non iPhone) Images courtesy of Highland Design Studio